"Hello, can Hisense 75H8G Quantum Android TV play 4K H.265 files from USB Flash Drive? Several weeks ago I bought a new Hisense ULED 4K TV from Best Buy, and I like watching downloaded movies on Hisense TV, the big screen makes me excited, and now I want to play H.265 video on Hisense TV from USB Flash Drive, I have copied the .mp4 videos from computer to USB Flash Drive, but the Hisense TV failed to recognize and play them, does Hisense TV support H.265 video format? How can I play H.265 movies on Hisense TV from USB? Please help me, thank you very much!"
"Is there a way to update my Hisense 55H8G smart TV so it can play video files encoded with HEVC? It's pretty annoying that Hisense isn't keeping up with this technology since this codec is quickly becoming the norm."

How to play H.265 videos and movies on Hisense H8G Quantum Series TV from USB port smoothly? Have you stored some H.265/HEVC videos on External Drive or USB Flash Drive? Do you want to play H.265 files on Hisense TV 4K ULED TV from USB port? This article will tell you the best way to play H.265 videos on Hisense TV through USB flash drive, pen drive and external drive. You can also play Blu-ray, DVD, CD, MKV, WMV, AVI, MOV, MP4, FLV, MTS, M2TS, VOB, TiVo, MPG and other files on Hisense H8G/H9G Quantum Series TV, R8 Series TV, R6 Series TV, Laser TV from USB with best format.
When you play movies on Hisense Android Smart TV through USB or External drive, the TV said the format is not supported by Hisense TV. In this time you maybe want to known what should we do to solve this problem.
Reason to Hisense Smart TV Can't Play H.265 files
Though Hisense Smart TV claims to support a wide range of video and audio formats and a handful of Hisense models after 2019 and onward is supposed to be compatible with the H.265 format, H.265 not playing error also comes up from time to time. Actually, it can be caused by various reasons as below.
H.265 format/codec is not supported.
The majority of smart TVs don't have the capacity of playing H.265 films. If you encounter the above H.265 decoder Hisense TV support errors, the most possibility lies in the lack of the native H.265 codec Hisense. Whereas many of us obtain some relatively older Hisense TV models, Hisense 4K TV H.265 features are probably not included. That can be translated to; the inner H.265 decoder Hisense TV is basically not accessible.
H.265 file is corrupted.
H.265 MKV or H.265 MP4 won't play if your H.265 file is corrupted or the information in the container is wrong.
How to Play Unsupported H.265 on Hisense TV via USB or External drive?
To break the format restrictions for Hisense ULED TV, you just need to convert Unsupported H.265 files to be support by Hisense TV with a third party software. Acrok Video Converter Ultimate is the recommended software to convert H.265 files to Hisense TV best format, this powerful software can convert any videos include AVI, MKV, WMV, M4V, MOV, MP4, VOB, MTS, etc. to any formats you need. Besides videos, it can also rip latest Blu-ray and DVD movies movies to unprotected common videos, and then you can play Blu-ray/DVD on Hisense TV via USB, is it wonderful? Now please download this H.265 to Hisense TV converter from the link.
Nutshell, the TV Converter gets the job done and can convert just about anything to just about anything else quickly, easily, and without complaining – and that's what's important.
Now, you can free download it as a try
Following our exhaustive tests, Acrok Video Converter Ultimate is the applications we feel performed the best.
This program has every tool and feature we looked for in the best H.265 video converters. It has a healthy selection of both common(AVI, MKV, MP4, VOB, MPG, Tivo, WMV, etc.) and uncommon video formats (H.265, XAVC, Prores, etc.), and the converted video was as close to perfect as can be reasonably expected for Hisense TV. The most impressive aspect of this video converter is how quick it is as well as lossless quality output. The whole workflow is very easy to use for beginner.
How to Re-encode Unsupported H.265 to Hisense TV Supported formats?
Step1: Load files
Drag H.265 (.mkv or .mp4) files to the software interface to import the file, batch conversion is supported so you can add multiple files to convert at a time.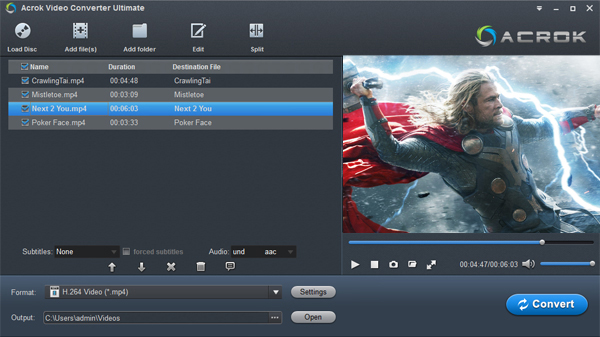 Step 2. Set output format for Hisense TV
Now click the "Format" icon to reveal output panel. And and mouse cursor to "HDTV" category to Select "Hisense" as the output format. Of course, you can also choose Common Video > H.264 MP4 as the output format. Both of the two optimized presets are universal for all models of Hisense TV.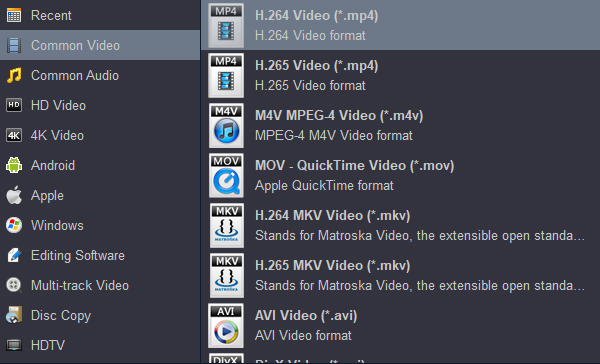 Step 3. Start video conversion
Click "Convert" button on the main interface to start converting H.265 files to Hisense TV/USB supported format. With NVIDIA CUDA and AMD APP technology, you can enjoy a faster video conversion. When the conversion is done, click "Open" button to locate the converted video files. Copy the movies to your USB flash drive. Now you can play any H.265 videos from UBS on Hisense TV and enjoy.