If you are a movie lover and have tons of Blu-ray discs, you may need a Blu-ray ripping program to make digital backups of your movie collection, so that you can watch them on various devices whenever and wherever you want, such as iPad Air, iPad Pro, iPad Mini, Galaxy Tab, Galaxy S10, Surface Pro, iPhone XS Max, Surface Book, Google Pixel Slate, Smart TV and more.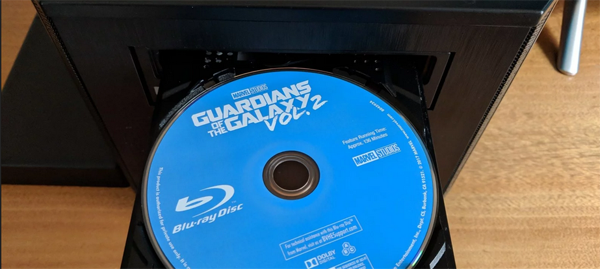 ALL YOU NEED: An appropriate Blu-ray ripping tool.
In the following minutes, you are going to read through the top 6 Blu-ray ripping software, try to find the most suitable one for your PC. As a matter of fact, there are many Blu-ray Ripper programs out there. For the purpose of figuring out the top Blu-ray Ripper in 2019, we evaluated a lot, and now we present the results basing on our test.
Top 6 Blu-ray Ripper on the Blu-ray ripping application list
NO.1 – Acrok Blu-ray Ripper (Acrok Video Converter Ultimate)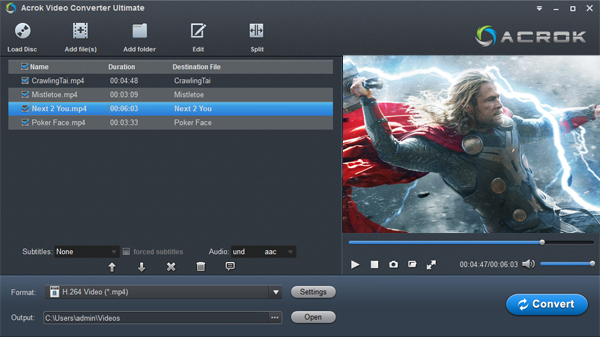 Free download Acrok Blu-ray Ripper Windows or Mac



25% OFF Coupon Code: ACRO-LD93-NLID
The good: It reads commercial Blu-rays, standard DVDs, and unprotected Blu-ray BDMV folder, DVD VIDEO_TS folder as well as ISO image file. As the name implies, it is capable of ripping Blu-rays and DVDs to a wide variety of video/audio formats, so that users are able to view Blu-ray and DVD movies on whatever devices they want. More than that, this best Blu-ray Ripper also comes with optimal presets for popular devices, like Apple iOS devices, Android tablets and smartphones, TVs,  and more, that is to say, even if you are new to Blu-ray/DVD disc ripping, you can easily create optimized movies for your devices by selecting a preset profile. In addition, you can convert any 1080P, 4K, 6K, 8K video and 720P video to any video foramt. Such as you can convert Canon, Sony, Panasonic, JVC, GoPro footage to MP4, MOV, AVI, MKV, etc.
Trouble of importing or editing your MP4, MXF, MTS or MOV footage because of compatibility issues? Your trouble is over. This great utility supports converting camcorder files (including the latest H.265/HEVC and XF-AVC codec) to various professinal encoders – Apple Intermediate Codec, ProRes and DNxHD, DVCPRO, HDV, MPEG-2, H.264 – ensuring maximum editing quality and efficiency when working with iMovie, Final Cut Pro X, Avid Media Composer, Adobe Premiere Pro, Premiere Elements, After Effects CC and more.
Adopting the enhanced video and audio in sync technology, users will meet Audio/Video out of sync issues seldom or never. This is one of the most important features that other similar bluray ripping programs may lack. Another bonus feature the NO.1 Blu-ray ripper has is that it allows users select wanted audio track and subtitles steam to be preserved in the output file.
It is known that Blu-ray discs are always encrypted so as to protect its copyright and prevent people from copying them. But backed by its advanced decryption technology, Acrok Blu-ray Ripper is able to crack all unprotected or protected Blu-ray discs to help you back up the high-quality movies, such as BD+, AACS, etc. On top of that, its acceleration functions add more charms to itself. You can quickly get the Blu-ray ripped within minutes on Mac or Windows.
In addition, using 'Copy the entire disc' feature, you are able to remain the Blu-ray/DVD's original file structure as it on the original physical disc. Insert the Blu-ray or DVD disc, click on the 'Copy the entire disc' button, and select a folder to copy to, this tool will take care of the rest for you.
The Good: You can rip the latest Blu-ray disc for iPad Pro, iPad Air, iPhone XS Max, Galaxy S10, Google Pixel 3a, OnePlus 7, LG V50 ThinQ, etc. This feature-rich Blu-ray ripper that can handle both Blu-ray and DVD conversions. You can watch, share and save Blu-ray/DVD content. On a border level, it can convert to MP4, MKV, AVI, MP3, AAC, FLAC, and other 180 video and audio formats. It is also possible to export videos in 4K, 1080P, 720P which makes it possible to use the media anywhere you want. Once you download & install this software (comes with a 31-day trial), the interface is very straightforward. The dashboard offers options to Rip, Copy, Burn for both DVD and Blu-ray. The second set of tools is the video converter and downloader.
Verdict: With decent cracking capability, high quality video/audio output and considerate backup solution and specific format templates for versatile devices (Android/Windows/IOS tablets and smartphones), this Acrok Blu-ray Ripper ranks top on the Blu-ray ripping application list.
Acrok Blu-ray Ripper User Reviews
1. Acrok Blu-ray ripper actually works and has a lot of terrific features. It's the best one among all the Blu-ray rippers I've tried and the price is acceptable. – Brian Weidling
2. Acrok Video Converter Ultimate helps me rip my favorite Blu-ray movies to MOV for my QuickTime. Cool product, fast, easy to use and more waiting for your discover! Official websites also offer a 25% discount now. That's good. – Hilla Bar
3. Beside Surface tablet, I see a very long list of output video and audio format, including the video presets for portable devices. You've done a very good job, Acrok! – Dina Gruenfel
4. This is really a useful Blu-ray ripper that supports converting Blu-ray to almost all video formats. Just want to say, reliable! – Nigel Burton
5. I can rip my Blu-ray to ProRes MOV for FCP X, thanks Acrok. – luciano bago
NO.2 – Pavtube Blu-ray Ripper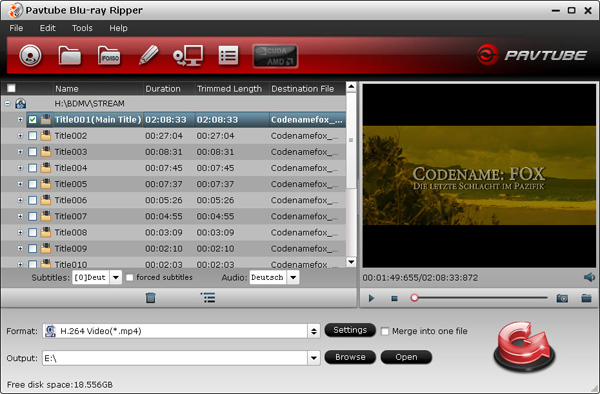 Free download Pavtube Blu-ray Ripper



As a supplementary program, the NO.2 Blu-ray Ripper comes with the same functionalities of the NO.1 Blu-ray Ripper, but has bonus feature to rip and convert Blu-ray and DVD movies to MKV container with multiple subtitles streams and audio tracks as well as chapter markers preserved, so that users can play the output MKV movie in a media player like WD TV and switch audio tracks, subtitles streams and chapters during playing.
Apart from that, you can backup and convert many Blu-ray and DVD movies to any other formats like MP4/MOV with multi-track audios, M4V, AVI, WMV, MPG, M2TS, etc. for playback on iOS/Android/Windows Tablets/Phones, HD Media Players (WDTV), editing software (Avid Media Composer, Adobe Premiere, etc.), and more.
The Bad: We can't load the latest Blu-ray discs, and the conversion speed is too slow to wait.
NO.3 – Handbrake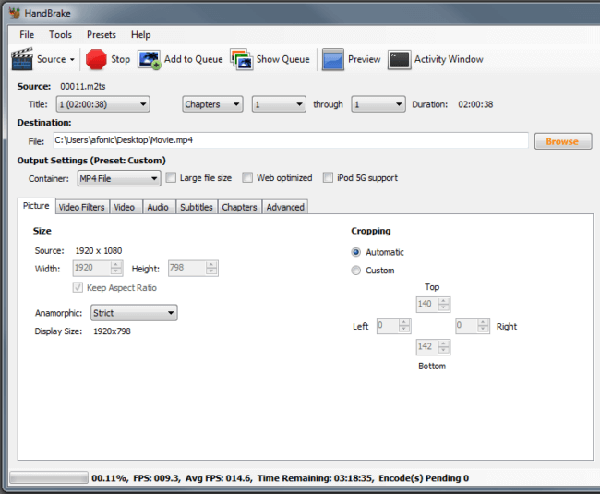 Free download Pavtube Blu-ray Ripper



Handbrake is a really powerful video encoding tool available for free use. It can rip Blu-ray discs and convert them into videos of any format working on your mobile phones, PCs, browsers and game console. While it is not designed with a superficial interface and not specified to newbies, it really caters to those who want to dig into making their own customized videos from Blu-ray.
Pros:
• Support a large number of output formats.
• Full features to use for advanced computer users.
• Support batch conversion and chapter markers.
The bad:
• Unable to rip copyrighted Blu-ray discs.
• Sophisticated for newbies in many detailed parts.
NO.4 – Leawo Blu-ray Ripper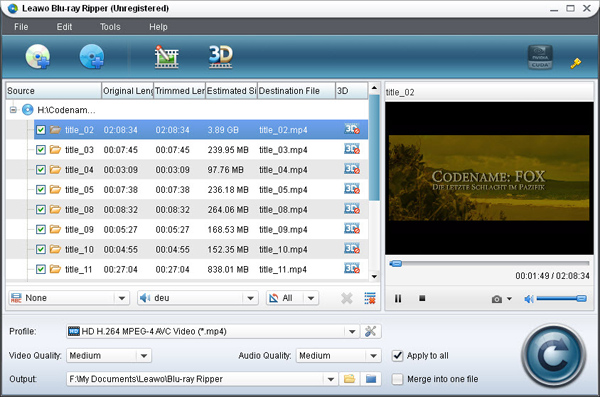 The good: The Leawo Blu-ray Ripper features the ability to convert 2D to 3D for users to enjoy the popular 3D effect and exports various HD and popular common video formats. This Blu-ray ripping softwre has stunning trim and crop feature, and it is able to trim video more accurate and crops movie more considerate than its similar competitors. More than that, It is capable of loading multiple Blu-ray and DVD movies at a time. If you have tons of movies waiting to rip and feel like having a Blu-ray Ripper queue them several movies for running overnight, this program is highly recommended. In addition, the new released version has added support to process BDAV discs.
The bad: It refuses to recognize Blu-ray ISO image file and forced subtitles (if there are). Its good at ripping old discs, can't break the latest Blu-ray disc. The price is too high to accept.
Verdict: The Leawo Blu-ray Ripper is an idea tool for DVD and Blu-ray ripping. There may be some improvements for the software manufacturer to make but it already performs well enough for average users to transcode and view Blu-ray and DVD movies on popular multimedia devices like iPad, iPhone, Apple TV, Galaxy S II, Galaxy S3, Samsung Galaxy Tab, etc.
Free download Leawo Blu-ray Ripper



NO.5 – WinX DVD Ripper Platinum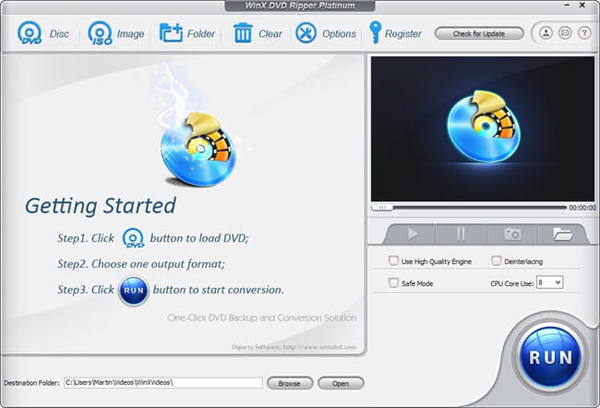 Free download Acrok Blu-ray Ripper Windows or Mac



WinX DVD Ripper Platinum is a deceptively simple DVD ripping tool to backup your Blu-ray contents for later playback. It boasts almost all the boilerplate features that we need to rip a Blu-ray among all the product in the lineup, such as Crop & Expand, trimming, subtitles embedding, audio adjusting. With the help of the integrated CSS decrypter, it is able to bypass the anti-piracy protections which are frequent fixtures on commercial discs and make an exact duplicate copy of the Blu-ray disc. Above all, it earns a spot of our review for its high-speed conversion.
Pros:
• Able to clone Blu-ray to ISO image in high quality.
• Work reliably on DRM-protected Blu-ray content and solve the 99 titles and scrambled picture.
• Convert in a high-speed with NVIDIA CUDA hardware acceleration and Intel's QSV are both supported.
• Offer a trial version with free 15 days of a full-featured WinX DVD Ripper Platinum.
Cons:
• No decryption outside AACS and BD+ protection.
• Unable to load some DVDs encrypted by strong systems.
• Upgrade and post-sale for a licensed version support are sometimes out of reach according to many customers.
• Cannot compress larger commercial DVD files to fit onto a smaller-capacity disc unless paying further
NO.6 – Xilisoft Blu-ray Ripper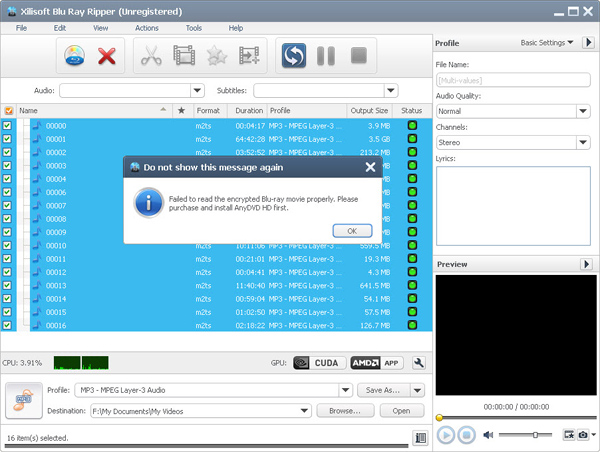 Free download Xilisoft Blu-ray Ripper



The good: The Xilisoft Blu-ray Ripper can convert both standard Blu-ray videos (M2TS format) and 3D Blu-ray videos (SSIF) to SD or HD formats such as H.264/MPEG-4 AVC, Apple TV h.264 720P, HD WMV, MPEG-2/MPEG-4 TS HD Video or even 3D movies with excellent and unmatchable ripping-converting speed while preserving good quality.
The bad: The app does not decrypt Blu-ray protections itself, and requires users installing AnyDVD HD to crack copy protection in advance. Unlike the former Blu-ray Ripping programs we mentioned above, it does not handle standard DVD movies. You can't get the latest device profiles.
Verdict: The Xilisoft Blu-ray Ripper does not rip movies from Blu-ray Disc, but if you have had the Blu-ray cracked and saved onto computer hard drive, this tool would be helpful and useful for you to enjoy movies on whatever devuces you have, like iPad air, iPad mini, iPhone, Apple TV, PS Vita, PSP, Kindle Fire HD, Asus Transformer, 3D smartphones and more.
Conclusion:
Certainly, you may already spend a lot of time on finding a great Blu-ray ripper. There is dozens of software in the software market which claim them as the best. And we know this isn't an easy job to find a good Blu-ray Ripper software with fair price. So we want to share our experience and findings with you. One can save your time, the other can give you objective suggestion to help you get a decent Blu-ray ripper software.