Sony-Its diversified business is primarily focused on the electronics, game, entertainment and financial services sectors. The company is one of the leading manufacturers of electronic products for the consumer and professional markets. Sony is ranked 87th on the 2012 list of Fortune Global 500.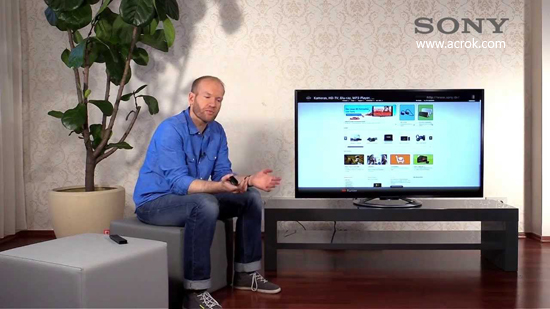 You can play 1080P HD movies on your BRAVIA HDTV, LED TV, 3D TV, LCD TV from USB devices or USB Flash Drive. But what video format will a Sony HDTV play from USB? Can the Sony 3D TV convert 2D to 3D? Why Sony Bravia  can't play an AVI File? If I want to play MKV files on Sony Bravia TV by USB, what should Ido? See the chart below for supported file formats:
Enjoy media files from a USB device, such as a digital camera, MP3 player, or USB storage device, connected to the USB input on the Sony BRAVIA HDTV, LED TV, 3D TV, LCD TV.
Sony TV Supported Format – Video, Music and Image
Category
File Type
File Extension
USB
Video
MPEG-1
.mpg
YES
MPEG-2 (PS, TS)
.mpg, .m2t
YES
MPEG-2, AVCHD
.m2ts, .mts
YES
MPEG-4 (Part 2, 10), MP4
.mp4
YES
DivX SD (Home Theater profile 3.0)
.divx, .avi
YES
Xvid
.avi
YES
WMV, Asf
.asf, .wmv
YES
DivX HD
.divx, .avi
NO
OGG
.ogv
NO
3gpp/3gpp2
.3gp, .3g2
NO
DivX HD plus, MKV
.mkv
NO
RealMedia
.rm, .rmvb
NO
MOV
.mov
NO
FLV
.flv
NO
MVC
.mvc
NO
Music
LPCM
.wav
YES
MPEG-1 Audio Layer-3
.mp3
YES
WMA, Asf
.wma
YES
–
.aac
NO
Image
JPEG
.jpg, .mpo, .arw
YES
PNG
.png
NO
Note: Not all files are guaranteed to play.
Why my Sony LED TV can't read video files?  You need make sure the video's video/audio codec were supported by Sony TV. How to play all formats on Sony TV? If the Sony TV doesn't support the video or audio codec, you have to convert the video  to MP4 (H.264/AAC ) format. Sony TV Converter can help you. This converter can convert all formats MKV, AVI, M4V, MOV, MP4, FLV, WMV, RMVB to Sony TV best playback format-MP4.
MP4 is the best video format for Sony BRAVIA HDTV, LED TV, 3D TV, LCD TV.
You can free download Sony TV Converter or Sony TV Converter for Mac.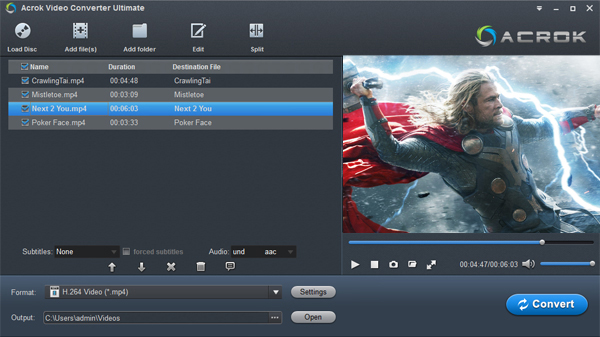 How to convert video for playing on  Sony TV via USB?
1. Run Acrok Video Convertert Ultimate as the best any video to Sony Smart TV supported format converter on your PC. Add videos source into this program.
2. Click "Format", then choose "HDTV  >Sony HDTV Video (*.mp4)".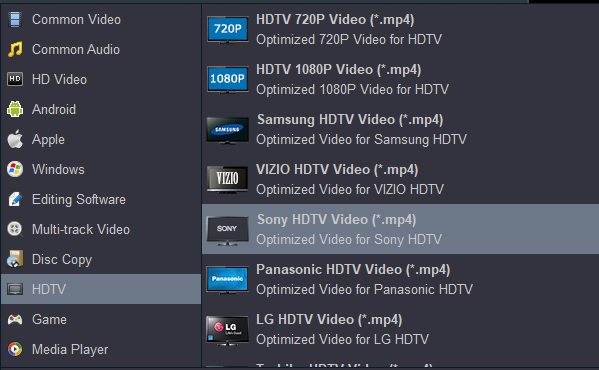 3. Cick "Convert" button to start video conversion.
4. You can click "Open" button to get the converted video files.
5. Transfer converted video to USB flash drive for playing on Sony TV.
Tip: If you want to watch Blu-ray and DVD movies on Sony BRAVIA HDTV via USB. You can rip Blu-ray/DVD to Sony TV best video format with this Sony TV Video Converter. It support DVD to Sony TV conversion,  Blu-ray to Sony TV conversion, 2D to 3D conversion, any video to common video/audio conversion. You can enjoy all typs movies on Sony BRAVIA HDTV, LED TV, 3D TV, LCD TV.