My Samsung TV can't play some downloaded M4V files because "They are drm protected". Does this really happen because of this reason? Because I pirated them and there shouldn't be any drm on them, right? And if it really is DRM, how can I remove it, as lossless as possible? – Gary Rumpler
Can I play M4V on Samsung TV direcrly? DRM file cannot preview on tv. Movie rental time limit: 24 hours not enough! If I am in the middle of watching a movie and the 24 hour limit is up, does the movie just quit or will it keep playing until it's finished? And is it just me, or is 24 hours not long enough? – Ian A Paton

Actually, M4V is also a common video container just like MP4 and AVI. Apple developed this format to encode TV episodes, movies, and music videos in the iTunes Store. The M4V video container is close to the MP4 with the same MPEG-4 video codec, except for the FairPlay DRM copy protection from iTunes. That is to say, most of the videos in M4V format are not able to be freely transferred or played in non-Apple devices due to the DRM. So, to answer the question, we need divide the M4V videos into two parts.
You can download your rented iTunes movies on one device at a time. If you download your rental on one device, you can stream it to one other device simultaneously. If you can't play your rental, see if it's downloaded or streaming on another device. To download your rental on a different device, remove the rental from your device, then download it on the device that you want to watch it on. This is limited to Apple devices. If you want to play downloaded iTunes M4V movies on other device, such as TVs, Android tablets, Android smartphones, you will be in trouble.
The iTunes rented movies are only available on a single device or computer at a time. Keep in mind, if you rent it on your computer, you can sync it to either your iPhone or iPad, but then it will disappear from your computer. What was worse, you only have 24 hours (in the United States) or 48 hours (elsewhere) to finish it after you start playing it. If you don't finish watching in that time, the movie will expire and you'll need to rent it again.
Have you ever downloaded or bought movies from iTunes? Bothered by how to play those protected video files anywhere you like? If it's the case, then now you're in the right place. In this article, we'll show you how to easily convert DRM-ed video files so that you can play DRM protected files on Samsung OLED TV, 4K UHD and other Smart TV without any trouble.
When it comes to the M4V videos which are purchased from iTunes store, removing DRM from iTunes M4V videos is the only way to make it possible to play iTunes M4V video on Samsung TV. You need a useful DRM removal tool if you want to get rid of DRM and play iTunes M4V videos on Samsung TV, Android devices or video players. M4VGO is just the best iTunes DRM M4V converter. It is a good assistant for you to remove DRM from iTunes M4V videos and convert iTunes M4V to Samsung TV supported video format for playing via Samsung media player.
Free download DRM M4V to Samsung TV Converter
How to convert DRM M4V movies for playing on Samsung TV?
1. Launch DRM M4V to Samsung QLED/4K UHD/Smart TV Converter, click button "Add file" on the upper left or in the middle of the interface. A pop-up window will show you all the movies in iTunes. Tick the movies you want to convert and then press button "OK".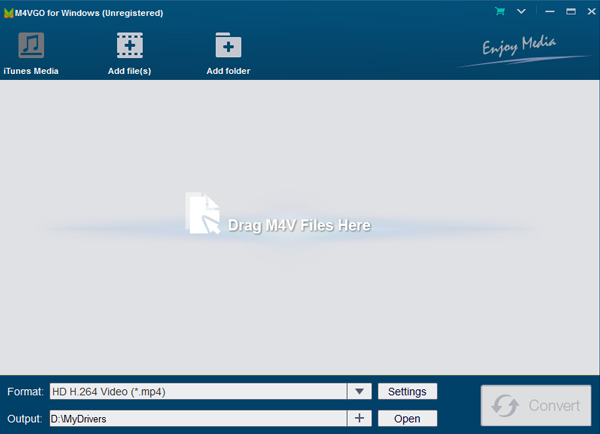 2. When Step 1 is done, you can see all the movies you chose listed on the main panel. Click the inverted triangle on the bottom-left corner. A pop-up window will appear for you to select output formats and output path. Here, you need to choose 1080P MP4 as output format. Please follow "HDTV" > "1080P HDTV Video (*.mp4)".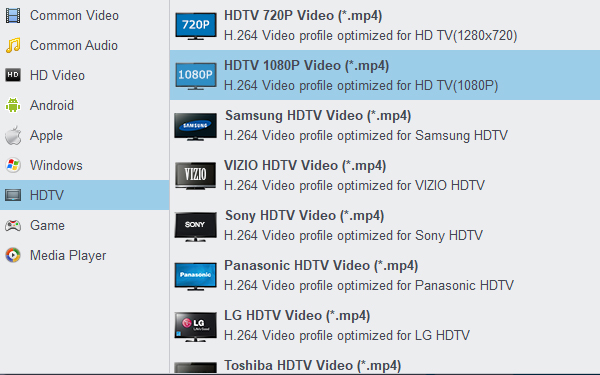 3. Click the "Convert" button, and all the M4V movies you want to convert are on the way to be converted as the output format you selected. When the conversion is done, all the converted movies can be found by clicking the button "Open" on the upper right. Now you can easily transfer the DRM-free M4V movies to USB disk for playing on Samsung TV.